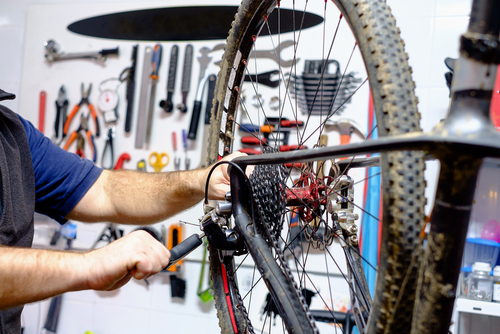 If you own a bike and are avid about riding it, it's important to make sure you're keeping up with maintenance and various bicycle repairs. More than just putting air in the tires or lubricating your chain, there is a wide range of factors involved in a true tune-up. Big Momma's Bicycles is here to provide you with a full range of maintenance and bike repair in Naples, Collier County, North Naples, and Bonita Springs, FL.
Bike service & maintenance
Bike maintenance is an extensive procedure that involves paying close, careful attention to all major and minor parts and components of a bike. This includes things like cleaning the chain and the cassette, centering the brakes, adjusting your derailer, checking bolt torque, adjusting wheel spokes and more. And, unless you have the tools and experience to do all of this yourself, it pays to trust a bike service in Naples, FL.
Big Momma's Bicycles offers you the comprehensive tune-up bicycle services you need to enjoy a bike that's in full working order. We can perform tune-ups and maintenance on any and all bikes brought to us, including fixed-gear bikes. We are also an expert bike service center for Elliptigo.
Service
Price
Description
Complete Tune Up
$139
Includes:

Clean & lubricate chain & cassette, oil cables & pivot points
Adjust derailleurs and brakes and true wheels
Completely and professionally clean your bicycle
Apply T-9 Boeshield rust and corrosion to frame and handlebar

Safety Check
$99
Bike Repairs
Like any mechanical marvel, a bike can eventually need repairs as components wear down or issues develop. If your ride isn't functioning to its fullest and needs bicycle repairs, visit Big Momma's Bicycles. We can repair just about any type of bike—in fact, we can repair just about anything with wheels! We have experience in replacing components and facilitating repairs for all brands of road bikes, hybrid bikes, fixed-gear bikes, electric bikes, wheelchairs, strollers, scooters and more!
The best part? If you need bicycle repairs and can't get your bike to our shop, we offer pickup and delivery bicycle services within 10 miles of our location!
Give your bike the care and attention it deserves. Contact us at Big Momma's Bicycles today by calling 239-263-0728 for service, bike accessories, rentals, and more. We'll show you what 30 years of professional bike repair and maintenance experience can do for your bike!