As simple as choosing a bicycle lock may seem, you should do your homework to ensure you buy the right one for protection against theft. Gone are the days when you could leave your bike unattended and come back hours later and have it still be where you left it. Today, criminals see unlocked bicycles as easy picking, so lock yours up! If you don't have a lock or need a new one, take some time to get online to review expert recommendations, check out descriptions of locks that catch your eye and read customer reviews.
You need to know about the different kinds of bicycle locks out there before choosing one that'll prevent theft, including their material, size, shape and locking mechanism. Below is a list of the best basic types of bike locks on the market in Naples, FL.

Cable bike locks
The first type of bike lock you might consider is the cable lock. These locks come in three different styles. One requires inserting a key into a keyhole to lock the ends of the cable lock together. You take the key out to engage and secure the locking mechanism. There's also a combination cable lock, while another type is equipped with a simple padlock.
In addition to style, cable locks also come in three different varieties: a standard cable (strands of steel wrapped in a plastic casing), a coiled cable and an armored cable lock. The last variety offers more protection than the standard kind.
Chain bike locks
Chain locks are simple contraptions. Simply put, they are lengths of chain that join together at the end. Where both of the lengths end is where the lock loops through a padlock or traditional bike lock to secure your bicycle. Some chain locks are reinforced and made to resist bolt cutters and crowbars.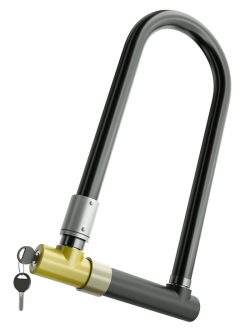 U-locks or D-locks
These names are descriptions of the same kind of bike lock, and the two terms are used interchangeably. Basically, this type of lock a bolt of steel combined with a key or combination locking mechanism. U-lock or D-locks offer heavy-duty security because they cannot be picked or drilled and they resist tampering from crowbars and other tools. Some advertise that they can't be cut with bolt cutters.
Other bike locks
There are also a few less commonly used types of bike locks. For example, the handcuff lock looks like a long set of handcuffs and works similarly. Though simple-looking like the aforementioned bicycle locks, these particular locks are not as effective. They are rarely used for this very reason.
How to lock up a bike
Even the best locks on the market can be useless if you don't lock up your bike correctly. The proper way to do this is to attach your bike to something strong. Find a public, well-lit space to park and lock up the most valuable parts of your bike first.
Don't hesitate to reach out to Big Momma's Bicycles for more information about the importance of utilizing quality bike locks in Naples, FL. Call us or visit our shop today!
Categorised in: Bike Accessories