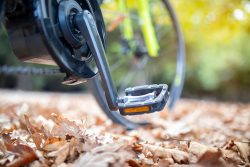 Bike pedals are a crucial component of your cycling experience, as they directly impact your efficiency, comfort, and control on the bike. With various types and styles available, choosing the right pedals can be overwhelming. In this complete guide, we will help you understand the different types of bike pedals and provide tips on how to choose the best ones for your riding style and preferences.
1. Platform Pedals
Platform pedals, also known as flat pedals, are the most common type of pedals. They feature a flat surface and provide a large and stable platform for your feet. Platform pedals are popular among casual riders, commuters, and downhill mountain bikers who prefer the freedom to quickly and easily put their feet down. They are also suitable for riders who wear non-cycling-specific shoes.
2. Clipless Pedals
Despite the name, clipless pedals are the ones that require a specific cycling shoe with cleats that clip into the pedal. This system offers a secure attachment between the shoe and the pedal, resulting in increased power transfer and efficiency while pedaling. Clipless pedals are commonly used by road cyclists, mountain bikers, and cyclists who want optimal control and power transfer. It is important to practice getting in and out of clipless pedals to avoid any accidents or falls.
3. Combination Pedals
Combination pedals, also known as clip/platform pedals, provide the best of both worlds by combining a flat pedal on one side and a clipless pedal on the other. These pedals are ideal for riders who want the convenience of platform pedals for short rides or casual use, but also the efficiency and control of clipless pedals for longer rides or more intense cycling sessions. Combination pedals are versatile and can accommodate a wide range of cycling shoes.
4. Pedal Materials
Pedals are commonly made from aluminum, steel, or composite materials like nylon or carbon fiber. Aluminum pedals are lightweight and durable, making them a popular choice for road cyclists and mountain bikers. Steel pedals are typically more affordable and offer increased durability, but they can be heavier. Composite pedals are lightweight, cost-effective, and often come with varying levels of stiffness and durability.
5. Float and Release Tension
When choosing clipless pedals, consider the float and release tension options. Float refers to the ability of the cleat to pivot slightly sideways when clipped into the pedal. A higher float allows for more natural foot movement, reducing the risk of knee strain and injury. Release tension determines how easy it is to disengage your foot from the pedal. Beginners may prefer lower release tension for easy disengagement, while more experienced riders might opt for higher tension for increased security.
6. Cleats
If you decide to go with clipless pedals, it's essential to consider the compatibility of the cleats with your cycling shoes. Different pedal manufacturers have their own cleat systems, so make sure your chosen pedals are compatible with your existing or desired cycling shoes. Cleats typically come with a certain amount of float adjustment, enabling a tailored fit to your preferences.
7. Riding Style and Terrain
Your riding style and preferred terrain will greatly influence the type of pedals you choose. For road cyclists, clipless pedals are often preferred due to the increased power transfer and cadence control they provide. Mountain bikers, especially those engaging in technical trails and steep descents, tend to opt for clipless pedals that offer better bike control and stability. Casual riders or commuters may find platform or combination pedals more suitable for their needs.
8. Budget
Last but not least, consider your budget when choosing bike pedals. Pedals can range in price, with clipless pedals typically costing more than platform pedals. Remember that investing in high-quality pedals that are suited to your riding style and preferences will significantly enhance your cycling experience, so consider them as a worthwhile investment.
Conclusion
Choosing bike pedals requires consideration of factors such as pedal type, materials, pedal/shoe compatibility, and your riding style and preferences. Platform pedals offer convenience and versatility, clipless pedals provide increased efficiency and control, and combination pedals combine the best of both worlds. Consider your budget and desired features to ensure you find the perfect pedals that enhance your cycling experience. Happy pedaling!
Got Questions? Let Us Help!
Welcome to Big Momma's Bicycles! Big Momma's Bicycles has been servicing the Naples area since 2005. We are a bicycle shop that does repairs, rental service, resales, services, tune-ups, and more. Big Momma's Bicycles is a locally owned business that does travel to pick up rentals and to help you out when your bicycle needs repairs. We have an excellent staff that is here to answer any questions you may have, so stop in or give us a call today!
Categorised in: Bike Pedals