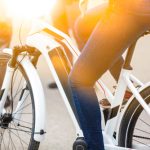 Cruiser bikes are a popular choice among individuals looking for a comfortable and stylish ride. Whether you plan to cruise along the beach boardwalk or explore your neighborhood streets, choosing the right cruiser bike can enhance your cycling experience. In this blog post, we will discuss the top five things to consider when buying a cruiser bike to help you make an informed decision and find the perfect ride for your needs.
1. Frame Material
One of the first things to consider when buying a cruiser bike is the frame material. Cruiser bikes typically come in two main frame materials: steel and aluminum. Steel frames provide a traditional aesthetic and offer a smoother ride due to their ability to absorb shocks and vibrations. They are also durable and can withstand heavy use. Aluminum frames, on the other hand, are lightweight, making them easier to maneuver and transport. They are also resistant to rust, which is a critical factor if you plan to ride near the beach or in areas with high humidity.
2. Comfort Features
Since cruiser bikes are designed for leisurely rides, comfort should be a top priority when making a purchase. Look for features that promote a comfortable riding position, such as an upright seating position and swept-back handlebars. A wide, padded seat can also enhance your riding experience, ensuring you can ride for extended periods without discomfort. Additionally, consider the suspension system of the bike, as it can help absorb shocks and provide a smoother ride, especially when navigating uneven or bumpy terrain.
3. Size and Fit
Choosing the right size and fit for your cruiser bike is essential for a comfortable and safe riding experience. Ensure the bike's frame size is suitable for your height and leg length. The correct frame size will allow you to reach the handlebars and pedals comfortably while maintaining proper posture. It is beneficial to test ride different sizes of cruiser bikes to determine which one feels the most comfortable and suits your body type. A bike that is too small or too large can lead to discomfort and potentially impact your control and stability while riding.
4. Gearing System
While traditional cruiser bikes typically feature a single-speed gearing system, many modern cruisers offer multiple-speed options. The choice between a single-speed or multiple-speed bike depends on the type of terrain you intend to ride on. If you plan to ride on flat surfaces with minimal inclines, a single-speed cruiser is suitable and provides a simpler riding experience. However, if you expect to encounter hills or varied terrain, a cruiser bike with multiple gears can help you adjust to different riding conditions, allowing for a more enjoyable and comfortable ride.
5. Style and Design
Cruiser bikes are known for their unique and stylish designs, and choosing a bike that matches your personal taste is essential. Consider the overall aesthetic of the bike, including the color, design elements, and additional accessories. Some cruisers offer customization options, allowing you to personalize your bike with various accessories, such as baskets, fenders, or even a rear rack. It is important to select a bike that not only meets your comfort and performance needs but also reflects your personal style and enhances your enjoyment of cycling.
Conclusion
When buying a cruiser bike, considering these top five factors can help ensure you find the perfect ride for your needs. From frame material and comfort features to size and fit, each aspect plays a crucial role in determining the overall riding experience. Additionally, the gearing system and style of the bike contribute to your comfort, convenience, and enjoyment while riding. By considering these factors, you can confidently choose a cruiser bike that suits your preferences, enhances your cycling experience, and adds a touch of style to your everyday rides.
Got Questions? Let Us Help!
Welcome to Big Momma's Bicycles! Big Momma's Bicycles has been servicing the Naples area since 2005. We are a bicycle shop that does repairs, rental service, resales, services, tune-ups, and more. Big Momma's Bicycles is a locally owned business that does travel to pick up rentals and to help you out when your bicycle needs repairs. We have an excellent staff that is here to answer any questions you may have, so stop in or give us a call today!
Categorised in: Cruiser Bikes