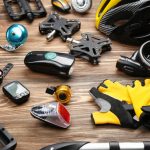 Cycling is not just a hobby; it's a lifestyle. From leisurely rides to intense training sessions, avid cyclists are always on the lookout for the latest and greatest bike accessories to enhance their riding experience. Whether you're a casual rider or a dedicated road racer, having the right accessories can make all the difference in your comfort, safety, and overall enjoyment on the bike. In this blog post, we will explore some must-have bike accessories that every avid cyclist should consider adding to their arsenal.
1. Comfort Takes Priority: Cushioned Bike Seat and Ergonomic Handlebars
When it comes to spending hours in the saddle, comfort is key. Investing in a cushioned bike seat, designed to minimize pressure on sensitive areas, can be a game-changer. Additionally, consider upgrading to ergonomic handlebars that provide better grip and reduce strain on your wrists, ensuring a more relaxed and comfortable riding position.
2. Stay Hydrated: Water Bottles and Bottle Cages
As an avid cyclist, staying hydrated is crucial for your performance and overall well-being. Make sure you have a reliable water bottle and a sturdy bottle cage to securely hold it in place throughout your ride. Look for insulated bottles to keep your drinks cool even on scorching summer days.
3. Stay Visible and Safe: Bike Lights and Reflective Gear
Visibility and safety should never be compromised, especially when cycling on busy roads or during low-light conditions. Invest in a quality set of bike lights – front and rear – to ensure you're always visible to motorists and other cyclists. To enhance your visibility further, consider wearing reflective gear, such as vests, arm bands, or ankle straps, which can greatly improve your visibility during night rides.
4. Fix It on the Go: Mini Pump and Tire Repair Kit
Flat tires can quickly take the fun out of any ride. Equipping yourself with a mini pump and tire repair kit is essential for fixing flats on the go. Compact and easy to carry, these accessories can save you from the hassle of a long walk back home or waiting for assistance. Additionally, don't forget to practice changing a tube before heading out to avoid any delays or frustrations during the actual repair.
5. Protect Your Head: Quality Helmet
Safety should always be a top priority when cycling, making a quality bike helmet a must-have accessory for every rider. Ensure your helmet meets safety standards and fits snugly on your head. Look for features like adjustable straps, ventilation, and impact-absorbing materials to maximize both comfort and protection while on the road.
6. Secure Your Bike: Bike Lock
Whether you're riding to work, stopping for a quick coffee, or exploring new trails, having a reliable bike lock is essential to deter potential thieves. Choose a sturdy lock that is difficult to cut or break, and don't forget to secure both the frame and wheels. Remember, investing in a good lock is always cheaper than replacing your beloved bike.
7. Record Your Journey: Cycling Computer or GPS Device
For those who enjoy tracking their rides and monitoring their performance, a cycling computer or GPS device is a must-have accessory. These devices provide valuable data such as speed, distance, elevation, and even heart rate, which can help you track your progress and set new goals. With built-in navigation features, you can also explore new routes with confidence.
Summary:
As an avid cyclist, having the right accessories can greatly enhance your riding experience, making it more comfortable, safe, and enjoyable. From comfort-enhancing seats and ergonomic handlebars to essential safety gear like lights and helmets, investing in these must-have accessories can elevate both your performance and overall satisfaction on the bike. Don't forget to stay hydrated with reliable water bottles, be prepared for flats with a mini pump and tire repair kit, and always keep your bike secure with a robust bike lock. Lastly, for those who want to monitor and improve their performance, a cycling computer or GPS device can be a valuable addition. So gear up, equip yourself with these must-have bike accessories, and ride on with confidence and style!
Need a Bicycle Shop in Naples, FL?
Welcome to Big Momma's Bicycles! Big Momma's Bicycles has been servicing the Naples area since 2005. We are a bicycle shop that does repairs, rental service, resales, services, tune-ups, and more. Big Momma's Bicycles is a locally owned business that does travel to pick up rentals and to help you out when your bicycle needs repairs. We have an excellent staff that is here to answer any questions you may have, so stop in or give us a call today!
Categorised in: Bike Accessories